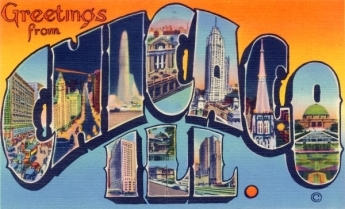 Welcome to the Chicago Postcard Museum.
You are about to enter a fascinating exhibition of rare, antique, vintage, contemporary and novelty Chicago postcards. There is approximately 15% of the Museum's postcard collection currently online. Send us a postcard of your city, town or favorite place and see it online.


Please help the Chicago Postcard Museum celebrate our 6th anniversary by Sharing this website on FaceBook, LinkedIn Groups and other Social Media sites by clicking on the bottom-left corner of this page.



Museum News & Information
Marshall Field & Co.: In Memory of a Chicago Institution.
Article: The Chicago Reader - Show us your... Postcard Museum.

Don't miss the Museum's awesome Joseph Koehler, Chicago Hold to Light, postcard collection.
Sunset Theaters 1 & 2
1893 World's Columbian Exposition

1893 World's Fair: Illustrated Photography presented in widescreen.

Listen to Our Radio Interviews
WBEZ 91.5 FM, Chicago Public Radio, Eight Forty-Eight Show presents: Passion for Postcards Goes Digital. Listen Now.

WLUW 88.7 FM, Outside the Loop Radio. Listen Now.