About the Chicago Postcard Museum.
The Chicago Postcard Museum is a privately endowed, independent organization devoted to collecting and presenting Chicago history through picture postcard imagery and correspondence. The Museum displays collections of Rare, Antique, vintage and contemporary Chicago postcards. The Chicago Postcard Museum's mission statement better explains the Museum's focus.

Founded November 1, 2007, the Museum strives to become the premier online archive of Chicago postcards. Unlike other Museums, the Chicago Postcard Museum offers all of our digital postcard images to the general public for free. The Museum owns each postcard displayed and will not post any images of postcards not owned by the Museum. The entire postcard collection is willed to the Chicago History Museum upon the director's death.

The Museum presents exhibits in a straight forward and concise manner, maximizing enjoyment and minimizing annoying mouse clicks. We present the front and back of almost every postcard on exhibit because our founder believes that a part of the fascination with old postcards is reading the printed descriptions, the senders message, viewing handwriting styles, and by examining a postcards true character.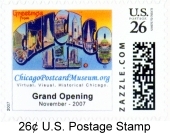 November 2007; The Museum commissioned a 26˘ U.S. postage stamps produced in honor of the Chicago Postcard Museum's Grand Opening. Forty stamps were printed and were then used for mailing announcement postcards of the Museum's launch to the local Media. If you received postcard series 1 - #001 in the mail with our postage stamp on it, you are very, very fortunate. What a keepsake.